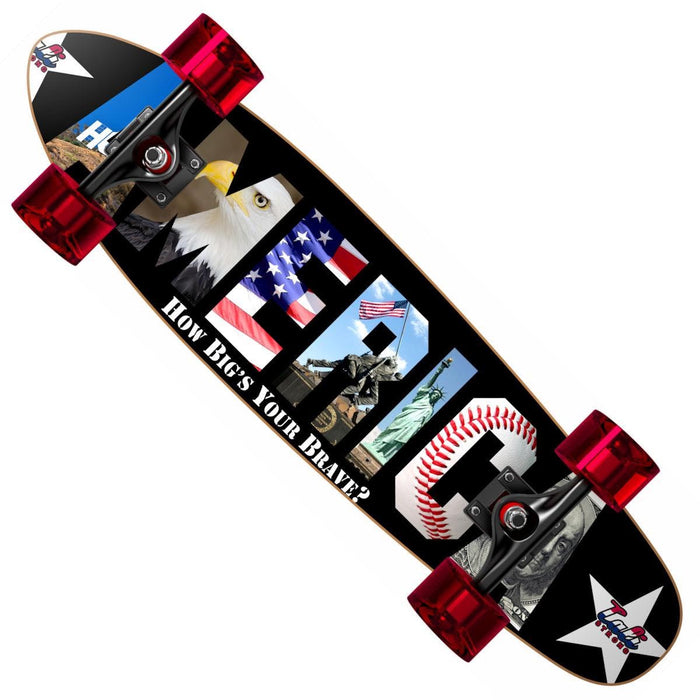 AK How Big's Your Brave AMERICA Mini Cruiser Throwback Complete 7" x 28"
Original price
$129.99
-
Original price
$129.99
The AMERICA How Big's Your Brave Mini Cruiser Throwback is a Penny Board killer not made for 7 year-olds. You get everything that makes retro Banana Boards great without any of the kiddie drawbacks. Small enough for easy carry and storage, yet big enough so you can actually live on it with no compromises.
She is the perfect have it all deck. Fits easy into your locker, carry-on, or backpack, and still offers enough foot room for doing manuals, pop-offs, and tricks. This iron lady is a superbly compact and stable little she-monster that changes the game in the skate park, city or campus.
She is a mini cruiser built with high-quality 7 Ply Canadian Maple and equipped with the smoothest components available. Whether a skate virtuoso, or just a regular Joe or Jane who fancies a smoother ride on soft 78A durometer polyurethane wheels spun on slick ABEC-7 bearings, you have found your best girl in the CALI Strong Mini Cruiser Throwback.
This board's equipped and ready to ride the second it's dropped at your doorstep.
Skateboard Cruiser Construction
Width: 7"

Length: 25"

Wheelbase: 14.25"


7 Ply Hard Canadian Maple for long-lasting strength and pop!

Low Concave Deck

Fully Functional Kicktail
Skateboard Cruiser Complete Hardware
7.75" Seagull Heavy Duty High Tensile Aluminum Alloy Trucks with PU cushions, Hardened Steel Axles & 4-hole base pattern

1/2" Rigid Riser Pads

62 mm Diameter 78A Durometer Performance Polyurethane Wheels

ABEC-7 Speed Bearings

80 AB Grit Heavy Duty Anti Bubble Grip Tape with screened CALI Strong Logo
Free Shipping for Orders Over $50